Join us for The Pinawa Chamber of Commerce February members meeting featuring Rhonda Henschell, Councillor, LGD Pinawa. Rhonda will talk about the latest efforts to market Pinawa and provide an update on PCDC activities.
February 13, 2019 | 6:30 pm | WB Lewis Business Centre – Conference Room
About our speaker….Rhonda Henschell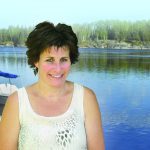 I was born and raised in Pinawa, affectionately dubbing myself a "lifer" in Pinawa.  I married my high school sweetheart Brent, and raised our two sons in Pinawa.  My husband and I both work in Pinawa, myself as a part-time dental receptionist and my husband for the LGD of Pinawa as the Water Treatment Plant Operator.  I am a graduate of the Asper School of Business at the University of Manitoba where I majored in Marketing and Small Business.  My husband attended Red River College and studied Hotel & Restaurant Management. We have always owned and operated businesses in the community from property rentals, to operating a boat tour business, the Bald Eagle,  to running our 50+ seasonal campground, Relax Ridge. I am starting my 9th year as an elected official and can honestly say that is has been very rewarding to be able to serve this community in this capacity.  I am very excited about the opportunities for Pinawa and look forward to being a part of our successful future.