5:45 pm

-

7:15 pm
Join North Forge East and The Pinawa Chamber of Commerce for a presentation by: Alberto Velasco, Director Trade Services, The World Trade Centre Winnipeg
Date: Thursday, October 12, 2017
Time: 5:45 pm
Location: WB Lewis Business Centre, 24 Aberdeen Ave., Pinawa
RSVP: info@pinawachamber.com
Alberto will be in Pinawa to discuss the services provided by the World Trade Centre – Winnipeg.
The World Trade Centre Winnipeg (WTC Winnipeg) is part of the global World Trade Centres Association which is composed of more than 300 World Trade Centres in 100 countries. The WTC Winnipeg provides support to Manitoba companies looking to grow their business beyond Manitoba and provides services to international companies interested in doing business with Manitoba companies. The WTC Winnipeg's trade development team provides a range of services to help companies identify and pursue targeted trade opportunities, explore new markets and seek international partnership opportunities.
The WTC Winnipeg also houses the Business Information Centre (BIC), an information hub for all things related to small business. BIC services are fee to entrepreneurs and include providing general business information, business related seminars you can attend in person or online and customized research such as demographics, benchmarking, industry reports, etc.
About our speaker…..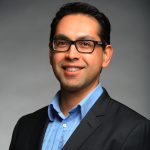 Alberto Velasco-Acosta - The World Trade Centre Winnipeg
Alberto joined the WTC Winnipeg in January 2014 to join the coordinating team of Centrallia Manitoba among other key projects to continue fostering productive business connections in our province. Born and educated in Mexico, Alberto has a degree in International Commerce and Relations (Universidad Latina de America – Morelia) and completed a Masters in Global Marketing (ITESO - Guadalajara).
His experience in Mexico includes working as the Head of International Trade for the Michoacan State Government, assisting local companies to become export ready, and managing the family business. In Canada, Alberto had the opportunity to work as the Mexico & Chile Trade Officer at Manitoba Trade & Investment and as the Executive Director of International Business Development at CentrePort Canada promoting the province in international markets such as China, Mexico, Russia and Turkey.
Now, as Director of Trade Services at the WTC Winnipeg, Alberto works with Manitoba companies in exploring and growing in international markets.
iCal • Send The World Trade Centre Winnipeg is Coming to Pinawa to Google Calendar
More information about The World Trade Centre Winnipeg is Coming to Pinawa